Time to Gear Up for Summer!

14 June 2012 by Cathy
It's almost that time of year again. Our summer schedule is going to blow into full gear soon enough. We start out with two of our largest shows, Irish Fair of Minnesota and Milwaukee Irish Fest. Both are very fun and tiring. Then if all works out we'll be somewhere each of the weekends in September. These include Irish, Scottish and Celtic events. Phew! I'm tired just thinking about that.
In order to keep my sanity during this time period, I'm trying to stock up as much as I can. This includes embroidering bags, t-shirts, hats (boy do I feel like we're low on hats) and any other miscellaneous items I feel we could use

If you can't wait or can't make it to these events, I will also try to get more items up in our Artfire store.
I have this nice pile of boxes to keep me busy for a while: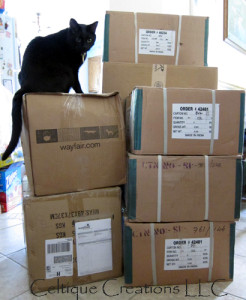 We will also have some new designs for you to see. I've already posted some of them in the gallery. Here are just a few of my new favorites:
Time to head back to playing with the machines!